Published 09.10.23
Kronospan expands its impressive portfolio of coordinated product matches with a distinctive lightweight panel
Kronospan and Pyrus Panels concluded a comprehensive cooperation, which expands the global product range of Kronospan and introduces the new Global Collection 3.0 with LISOCORE® worldwide.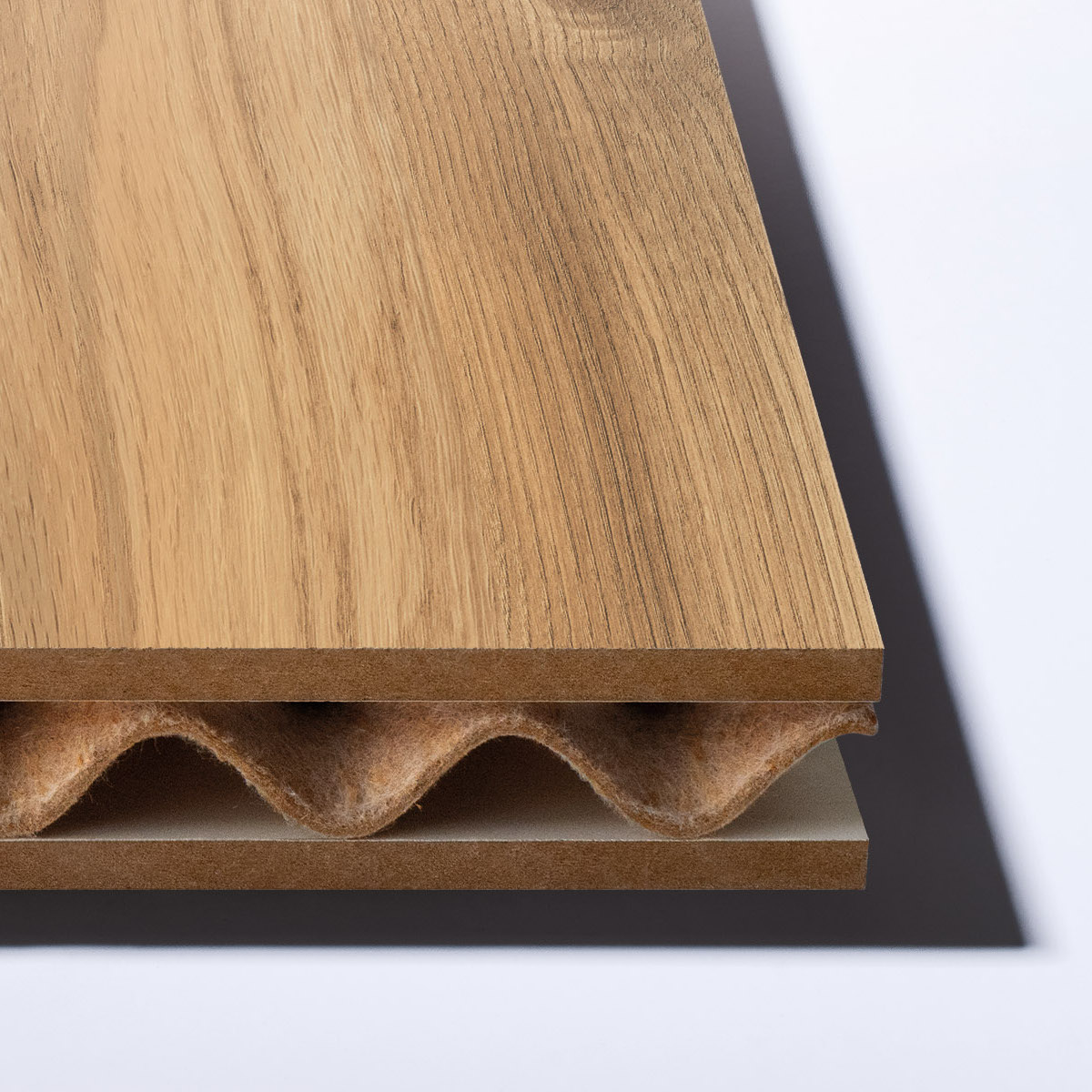 LISOCORE® presents a fresh perspective on lightweight construction. Crafted from natural renewable sources, this high-performance board stands out with its patented basic sandwich structure. The top and bottom layers consist of individual wood materials, while a wood fiber fleece in a wave shape sits in the middle, providing exceptional stability through its interconnected construction. This design distributes forces three-dimensionally, preventing deformation. Remarkably, LISOCORE® retains the versatility of conventional MDF boards, enabling easy processing.
Adapting to various applications, the cover layer of LISOCORE® offers flexibility. Ultra-light plywood suits mobile uses, while HDF or MDF panels create stable options with minimal weight.
The coloration between the two companies bolsters Kronospan's already impressive portfolio of coordinated product matches with a distinctive lightweight panel offering, whilst providing Pyrus Panels with a wide array of decor possibilities. The panel is now available in all Kronodesign decors, in thicknesses ranging from 16 to 60 mm.
Beyond technical benefits, both companies prioritize sustainability. The production of the multiple award-winning LISOCORE® emits minimal emissions and is primarily composed of renewable raw materials. Its innovative structure requires 50-70% less material, aligning with the growing importance of material efficiency, embedded in LISOCORE®'s DNA. The sustainability commitment is supported by certifications, including FSC and PEFC.
Fulfilling an unmet need, LISOCORE® stands as a one-of-a-kind, high-strength lightweight construction material with a diverse selection of decors.
LISOCORE®; panels will be displayed at all future Kronospan trade fairs for visitors to see them up close. Additionally, LISOCORE®; panel will be on display at the Kronospan Design Centers.